Share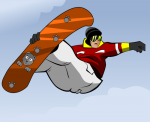 For immediate release: San Diego, CA (March, 2020) – Billy Crafton takes to the California mountains with his newest online property
Spring may be coming, but Billy Crafton looks to hold onto winter a little bit longer with his newest website, Billy Crafton Snowboarding (BillyCraftonSnowboarding.com). Billy's latest online endeavor hopes to help answer several important questions confronting brand new snowboarders, while also putting a focus on one of the key misconceptions about winter sports in California – yes, they do exist, and yes, there are some high quality skiing and snowboarding destinations here in the state too.
Billy notes –
"Snowboarding tends to scare people just starting out, and it can even intimidate people to the point that they don't start out. With Billy Crafton Snowboarding, I want to help shine the light on a few key ways to help lower the barrier to entry a bit. Snowboarding can be so much fun, but it's certainly not the easiest of sports, so I think it's important to help light the way for others," Billy Crafton says.
The brand new website unites a whole cadre of Billy's personal favorites online to assist new and wannabe snowboarders in joining the wild and wintry world of snowboarding, particularly in California.
The site includes help with some key snowboarding moves to really make a difference, and also contains a Frequently Asked Questions (FAQ) section, focusing on three very common questions asked by people just looking into snowboarding for the very first time:
What exercises can I do to help prepare my body for the pain in store?
What gear do I really need to buy (versus renting on-site)?
Do I need to take snowboarding lessons?
Also, as a long time California denizen, Billy Crafton hopes to help address another core issue via BillyCraftonSnowboarding.com –
"Although we're certainly not famous for skiing and snowboarding like Colorado or Utah, Cali will surprise you with some high-quality snowboarding locales to the east," Billy notes. He shares some of the state's best destinations within the new website.
Billy also showcases a fun video on a handful of important snowboarding moves as well, "moves that, although relatively simple, will help you more thoroughly enjoy your snowboarding experiences," he also notes on the homepage.
For all the details on the new website, please visit https://billycraftonsnowboarding.com/.
ABOUT BILLY CRAFTON: Snowboarding serves as an entertaining hobby, but Billy Crafton's true passion is still Brazilian Jiu Jitsu. Billy often competes in, and frequently wins, International Brazilian Jiu Jitsu Federation world championship tournaments, and other tournaments on occasion as well. His extensive resume includes several championship wins (national and international), and Billy Crafton, now a black belt, has reined in IBJJF World Championships and Pan Jiu Jitsu Championship titles too. Billy also enjoys introducing others to Jiu Jitsu via several different properties online (all starting with BillyCraftonJiuJitsu.com) and his gym located here in San Diego.
On the professional side, Billy Crafton manages his own Investment Banking Company, where he advises clients in sports management, entertainment, fitness, marketing, and restaurants. Billy also serves as business manager to major athletes, while making time for the occasional speaking engagement at universities and law schools.
Source: https://thenewsfront.com/billy-crafton-snowboarding-hits-the-slopes-online/
Billy Crafton Snowboarding. Here are a few of the top questions you'll often hear when discussing snowboarding, especially for beginners.
https://billycraftonsnowboarding.com/