Share
San Diego, CA (April, 2020) – Billy Crafton visits San Juan, Puerto Rico and takes time out for teaching Brazilian Jiu Jitsu with Carlos Reyes.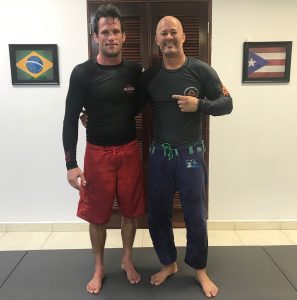 Billy Crafton recently traveled to San Juan, Puerto Rico and spent a little time on a detour to Brazilian Jiu-Jitsu Puerto Rico, a Jiu-Jitsu facility located in the Hato Rey area. The well-respected 1500-square foot, air-conditioned facility, equipped with Zebra Mats, offers a free first class with no commitment, so people can decide if Brazilian Jiu-Jitsu is indeed for them.
Accepting an invitation from the gym's own Professor Carlos Reyes, Billy Crafton taught a two-day seminar during his March visit, focusing on Gracie principles of self-defense, including the belief "that martial arts are created for a self-defense purpose," as noted prominently on the Brazilian Jiu-Jitsu Puerto Rico website.
The combination of two well-traveled and highly-skilled Jiu-Jitsu teachers provided students with a little extra motivation. Carlos has been in the martial arts since the early age of 13 years old. His first experience was karate, then Moo-Duk-Won, Combat Hapkido, and Tae-Kwon-Do. Carlos "integrates his Hapkido and TKD knowledge into BJJ, offering his students a well round self-defense class for all kind of situations." He's trained under Master Rilion Gracie for 10 years now.
Billy started training in Jiu-Jitsu in 2009 with Regis Lebre at Gracie Humaita, and he's won NAGA, Grappler's Quest and Grappler's X tournaments, as well as over 50 IBJJF tournaments, including a World Championship, multiple American National gi and no-gi championships, and multiple Pan-American gi and no-gi championships.
As for the two-day teaching stint, Billy thoroughly enjoyed both that experience and his entire trip to Puerto Rico, but one obstacle rose above all others as he spent time teaching. Billy notes –
"The biggest test on my Puerto Rico visit wasn't a test of my Jiu Jitsu skills…"
Both Billy Crafton and Carlos are black belts, and as Billy elaborates –
"Instead, the biggest test was my Spanish-speaking skills."
After Billy completed a round of teaching, he asked, "Does anyone have any questions?" in Spanish, which reads "Alguien tiene alguna pregunta?"
Billy's pronunciation of the word "pregunta", however, elicited some laughs from his audience. As one person lightheartedly joked, "I think your Spanish shows more of a surfer gringo accent than a Puerto Rican one!"
Visit the Brazilian Jiu-Jitsu Puerto Rico on Facebook for more: https://www.facebook.com/prbjj/photos/a.345183325514993/2406689336031038/?type=3
And to learn more about Billy Crafton and his work at the Gracie Humaitá San Diego Jiu Jitsu Academy, visit the link right here: https://www.thegraciesandiego.com/about-us/instructors
ABOUT BILLY CRAFTON:  Brazilian Jiu jitsu has served as one of Billy Crafton's true passions now for over a decade. Billy frequently competes in, and also frequently wins, International Brazilian Jiu Jitsu Federation world championship tournaments, and other tournaments from time to time as well.
His resume includes many championship wins (both nationally and internationally), and Billy Crafton, now a black belt, has also pulled in IBJJF World Championships and Pan Jiu Jitsu Championship titles too. He very much appreciates teaching Jiu Jitsu as well, both in person at his gym in San Diego, and online at BillyCraftonJiuJitsu.com.
Source: https://thenewsfront.com/billy-crafton-teaches-two-day-jiu-jitsu-seminar-in-puerto-rico/
The Art of Jiu Jitsu To master Jiu Jitsu, you must first master your own mind, body and soul. At Billy Crafton Jiu Jitsu, we hope to help you a little bit on that journey. Obviously, an in-person mentor is…
1155 Camino Del Mar #537
Del Mar
CA 92014
United States
602-625-9547
https://www.billycraftonjiujitsu.com/