Hardy Pediatric Dentistry & Orthodontics Awarded Colorado Top Dentist By Colorado Parent Magazine
Tony Mason
Share
Erie, CO – Hardy Pediatric Dentistry & Orthodontics was recently named as Top Dentist 2019 by Colorado Parent Magazine, a trusted source by parents in the community. The practice provides orthodontic care for children and teens in Erie, CO area.
Dr. Namrata Hardy, DMD and Dr. T.C. Hardy, DMD and the staff offer a unique approach to providing treatment for their young patients. As both doctors feel strongly about open communication and patient education, they strive to build a trusting relationship with each of their young patients by using "Tell-Show-Do" to explain and demonstrate procedures before they do them. They also encourage parental involvement during the dental visit and at home, to ensure a lifelong positive relationship with oral health.
The practice specializes in pediatric dentistry and orthodontics, offering state-of-the-art technology coupled with knowledge and expertise, to offer top-notch care from a patient's early childhood throughout their teens. Dr. Nam has won the Colorado Top Dentist award in previous years as well. In addition to Colorado Top Dentist, Dr. T. C. Hardy was also named Top Dentist by 5280 in the past and has received the The Everett Shapiro Award in Orthodontics and the Dr. Harold Berk Endowed Prize Fund for Excellence in Research.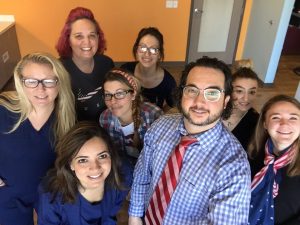 About Hardy Pediatric Dentistry & Orthodontics
Dr. Namrata "Nam" Hardy, a board-certified pediatric dentist, graduated from Tufts University School of Dental Medicine and specialized in Pediatric Dentistry at Brookdale Hospital in NYC. She is a Diplomate of the American Board of Pediatric Dentistry, a member of the American Academy of Pediatric Dentistry, Colorado Dental Association and the Metro Denver Dental Society. A board-certified orthodontist, Dr. Hardy received his Advanced Education in General Dentistry at Lutheran Medical Center in Brooklyn, NY and then went on to graduate from Tufts University School of Dental Medicine where he also earned his Certificate of Orthodontics. Dr. Hardy owns private practices in Lakewood, Erie and Fort Collins and is an active member of the American Association of Orthodontics, the American Dental Association, and the Colorado Orthodontic Association. They are available for interviews upon request.
For more information about Dr. Namrata Hardy and Dr. T.C. Hardy and Hardy Pediatric Dentistry & Orthodontics, please visit https://www.hardypedoortho.com
See Our Location
Source: https://thenewsfront.com/hardy-pediatric-dentistry-orthodontics-awarded-colorado-top-dentist-by-colorado-parent-magazine/
At Hardy Pediatric Dentistry and Orthodontics, we are dedicated to making your patient experience be the best it can be. To accomplish this, our combined pediatric dentistry and orthodontics practice is equipped to give you premier, specialized care through state-of-the-art technology, training and expertise.
3200 Village Vista Dr. Suite 110
Erie
Colorado 80516
United States
(720) 250-9626
https://www.hardypedoortho.com