Lockdown Project: Top Vegan Shoes Offers a Comprehensive List of Vegan Shoes Available in the USA
googlenews
Share
Top Vegan Shoes offers a comprehensive list of vegan shoes available in the US. The website comes at the perfect time as the vegan movement is on the rise and many new companies have entered the vegan shoe market.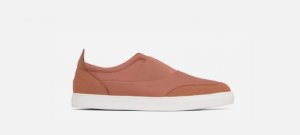 Top Vegan Shoes was created during lockdown to help the conscious consumer to find vegan shoes, which traditionally has been difficult. The affiliate site has listed over 80 vegan shoes on their homepage, including the best brands for 2020 for men and women.
"As longtime vegans, we knew all about Will's and Matt & Nat. But as we dug deeper into our research, we were baffled of how many more amazing companies there were – that we had never even heard of," said TVS founder Liis Hainla who, prior to the site, has been involved in different vegan shoe projects.
Best Brands for Vegan Shoes in 2020
Since vegan fashion has grown in popularity over the past few years, Top Vegan Shoes has made sure the shoe brands on their homepage 100% vegan and free from animal-based fabrics, glues, dyes, or ingredients of any kind.
"We wanted to give spotlight to brands that are cruelty-free to their core. And also make it easier for the vegan shopper to make animal-friendly choices, without getting lost in trying to figure out which styles are vegan and which are not, " said Hainla.
The vegan brands listed on Top Vegan Shoes are also rated based on quality, sustainability, and, most importantly, fair labor, so you know your shoemakers work in a safe environment with fair wages. Each brand is marked with a dollar sign, and the vegan shoes range in price from $70 up to $250 and over.
From Ethical Luxury to Budget-Friendly Picks
On top of best vegan shoe brands, you will find separate lists for vegan sneakers, men's vegan shoes, luxury vegan shoes, and affordable vegan shoes, as Top Vegan Shoes aims to cater to different types of needs.
Since many designers today have switched to using faux leather, Top Vegan Shoes lists all your best options for vegan luxury shoes. The site features unique vegan luxury brands such as Veerah, Taylor & Thomas, Stella McCartney, and Rombaut.
As for less expensive shoes, Top Vegan Shoes has a selection of affordable vegan options for people who are buying their first pair. This list has great brands, but within your budget, including companies like Lulus, Blowfish Malibu, Nature Breeze, and many more.
Top Vegan Shoes aims to be the one-stop-shop for all your vegan shoe needs. As Hainla commented, "We're here to help you find the perfect vegan pair and help promote the best vegan designers. From where we look at it, the future of footwear is entirely cruelty-free."
More information
For all the lists of vegan shoes available for purchase, check out Top Vegan Shoes website today at https://www.topveganshoes.com. If you have any questions or queries about a specific type of vegan shoe, please do not hesitate to contact Top Vegan Shoes by email at hello@topveganshoes.com.
Source: https://thenewsfront.com/lockdown-project-top-vegan-shoes-offers-a-comprehensive-list-of-vegan-shoes-available-in-the-usa/
My name is Liis and I am here to connect you to your new favorite pair of vegan shoes. Maybe you found them already, maybe you are still searching. Just take your time and do not settle. Top Vegan Shoes…