Share
Maropost takes its first step into the European market by announcing the opening of a new office in Sweden.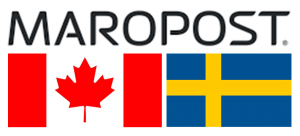 CEO Ross Andrew Paquette announces the opening of a new Maropost office in Sweden. Established in order to create a necessary foundation in the Nordic countries that will, eventually, be used to pave the way for Maropost's entry into the EU market.
At this moment in time, Maropost's main headquarters is located in Toronto, Canada. However, Maropost does have teams set up in the USA and India as well.
To illustrate the different responsibilities of each of Maropost's current teams, Mr. Paquette says the following: "For our main team in Canada, we take care of HR, finance, and client success — we have a lot of our executive team stationed there. And, as for the US, our team there focuses more on the sales and marketing aspect — leaving our India team in charge of most of our software development, a lot of system administration, and a little bit of support as well."
According to Mr. Paquette, Maropost's main strategy for breaking through the EU market is to: "Hire a talented customer management team that will allow us to service the European market and connect with our European customer base appropriately." 
With an effective and constructive team installed in Sweden, Maropost intends to then spread its roots towards the rest of the Nordics until, inevitably, they are able to advance to the rest of Europe at large.
About Maropost
Maropost is considered one of the fastest-growing marketing automation platforms in North America, according to the Deloitte Technology Fast 500 rankings. It simplifies customer engagement for B2C brands and retailers like Mercedes-Benz, Rolling Stone publisher Wenner Media LLC, Shop.com, the News Corp, and so on, by providing a fully unified customer engagement platform through which they can effectively connect with their customers.
Source: https://thenewsfront.com/maropost-opening-in-sweden-as-part-of-european-expansion/
Majestic PR provides news distribution services across the United States.
United States