Share
When doing jobs in and around the house, there is a real risk of injury. Last year, 9,200 people ended up in one of the emergency departments in a Dutch hospital. This is shown by research by VeiligheidNL, commissioned by online tool shop Klium. The study looked at how many people end up in the E.R. every year after doing private work.
However, a decrease is visible. Five years earlier, 11,000 people were injured through the use of tools or other jobs. A distinction is made between minor injuries and serious injuries.  Superficial injuries and open wounds are usually characterized as minor injuries, whereby injuries to internal organs and (severe) fractures are considered serious injuries. The number of job accidents that led to serious injury did increase slightly, from 3,200 in 2014 to 3,400 last year. The decrease is therefore mainly attributable to accidents that lead to minor injuries. The number of accidents leading to minor injuries has decreased by more than 25% in 5 years' time from 7,800 to 5,800. The research does not show what the decrease in accidents is due to. Probably the stricter safety rules for online power tools play a major role in this.
Emergency cases after job accidents
            2014               2018
Minor injuries          7,800               5,800
Serious injuries        3,200               3,400
Total                           11,000             9,200
Older people and men are more at risk
What is striking about the outcome of the study is that the risk of job accidents increases with age. For example, people over the age of 55 are more than 60% more likely to have an accident than men and women under the age of 55. According to Kathleen Ombelets of Klium there are several causes for this. "On the one hand we see that as people get older, motor skills deteriorate, and balance disorders are more common. This results in dangerous situations, especially when working with ladders. But older people also have more time left, because they work less or are completely retired. That's why they more often do their own jobs at home, which increases the risk of accidents".
In 87% of the accidents that lead to a visit to the emergency department, the victim is a man. "This is not illogical; looking at our customer base, by far the majority of them are men".
SOURCE: https://thenewsfront.com/more-than-9000-people-end-up-in-the-e-r-after-working-in-or-around-the-house/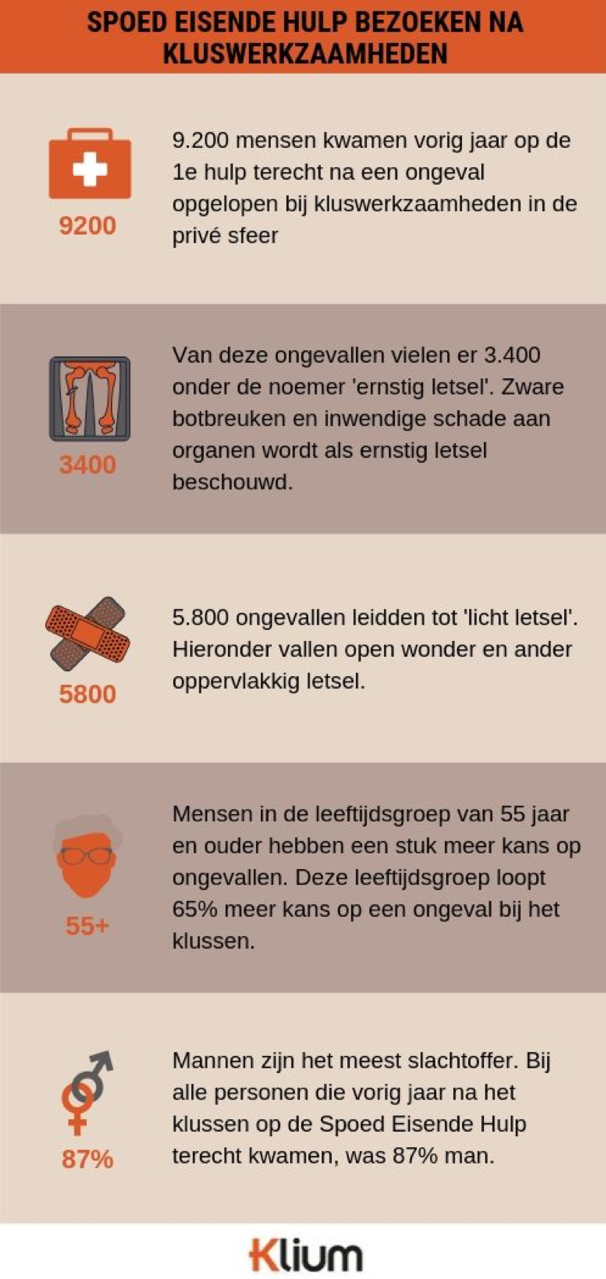 Welcome to Klium, the largest online toolshop in Belgium and the Netherlands. Quickly find the article you're looking for or navigate at your convenience through the categories. Klium holds the complete product range of A-brands in stock.
Ekkelgaarden 26
Hasselt
3500
Belgium
+32 3 740 00 41
More press releases for Klium