Ray Mobile Storage offers solutions for Greensboro Storage needs during COVID-19 Pandemic
googlenews
Share
Ray Mobile Storage LLC today provided a business update regarding the way the company can assist residents requiring self storage service during the COVID-19 pandemic.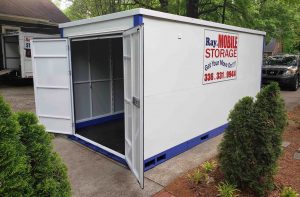 Since the implementation of stay at home orders and Triad residents growing concerns about exposure to the coronavirus a new Greensboro mobile storage business, Ray Mobile Storage, has begun offering ways to fulfill consumers' self storage needs without having to leave your home or residence.  Ray Mobile Storage can deliver brand new mobile storage containers to your place of residence for you to load at your pace and further store or deliver to a different local residence should the need arise.
Ray Mobile Storage currently offer a variety of payment options and no contact delivery while serving the entire Piedmont Triad Region. Customers can complete the Greensboro mobile storage container rental process via phone and with the lease available online they can proceed without leaving their home or having to interact in person with Ray Mobile Storage team members.  While they won't need to interact with anyone in person, teammates will be available to new renters to assist  them throughout the process and answer questions.
Ray Mobile Storage is attuned to today's ever-changing business and consumer needs. "Having been in self storage for over 30 years, mobile storage is a proven safe and easy way to handle your various storage and local moving needs." said Co-owner Alan Ray. By offering quick delivery and multiple storage container sizes Ray Mobile Storage can assist Piedmont Triad business and consumer needs in a Flexible, Convenient and Reliable manner.
About Ray Mobile Storage
Ray Mobile Storage is a locally owned Mobile Storage and Moving Solutions business based in Greensboro, NC.  Mobile Self storage allows customer to have self storage delivered and provides the opportunity to load and store at your schedule and availability.
Source: https://thenewsfront.com/ray-mobile-storage-offers-solutions-for-greensboro-storage-needs-during-covid-19-pandemic/
Ray Mobile Storage is a locally owned Mobile Storage and Moving solutions business. We offer a modern mobile storage service solution delivered to you. Our secure all steel weatherproof containers allow for affordable answers. You can store your residential or commercial items while…
3121 Spring Garden Street Suite B
Greensboro
North Carolina 27407
United States
(336) 331-9944